Transportation, the system that provides mobility for people and goods, is a major contributor to systemic inequities and climate change. Advocates and allies focused on reforming it are implementing a wide range of proven community-based solutions across the country.
Systemic Problems
While not a marquee focus area for most foundations, the impacts of the car-dominated system are wide-ranging. Transportation is now the leading contributor to greenhouse gas emissions and climate change.i Vehicles are a major contributor to air and particulate pollution.ii Car crashes kill about 40,000 people and injure hundreds of thousands each year. The current system discourages physical activity and limits access to jobs, opportunity and health care. People of color and low-income communities are disproportionately impacted by virtually every facet of the transportation system.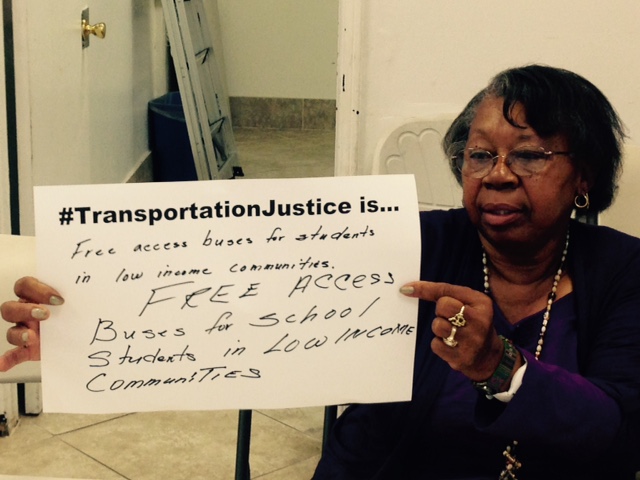 Decades of decisions on transportation, housing and land use have created the car-dominated system we have today. The government sanctioned practice of redlining, single family zoning, highways rammed through neighborhoods and intentional removal of trolley systems are a few of the historic lowlights. A utopian ideal promoted by the auto industry and the road-building industry firmly established the car culture that continues today.
Unequal Service
The inequities of our transportation system are both historic and current. On average, communities of color in the Northeast and Mid-Atlantic breathe 66 percent more air pollution from vehicles than white residents.iii Highway widenings today still disproportionately impact vulnerable communities.
Substandard transit service in many cities means that bus trips take longer and are less convenient than driving, especially problematic for people in jobs with fixed schedules.iv In the Twin Cities region, transit riders of color lose about four work weeks more per year than white drivers in travel time to work. Nationwide, communities of color make up 60% of bus riders. Households earning less than $15,000 a year account for 30% of bus riders, but are only 13% of the population.v
Driving Sprawl
The car-based monoculture in the U.S. starkly disadvantages the estimated 30% of the population who don't have drivers licenses and the 9% of households that don't have access to a car. This increases social isolation and hinders access to jobs, opportunity and healthcare. People of color are more likely to be killed in traffic crashes, as are people on foot and on bikes. The rise in real estate prices in booming cities has pushed people out to the suburbs where housing is cheaper but transportation choices are much more limited. This further reinforces car dependency. Transit works best in denser areas: biking and walking are best for short trips.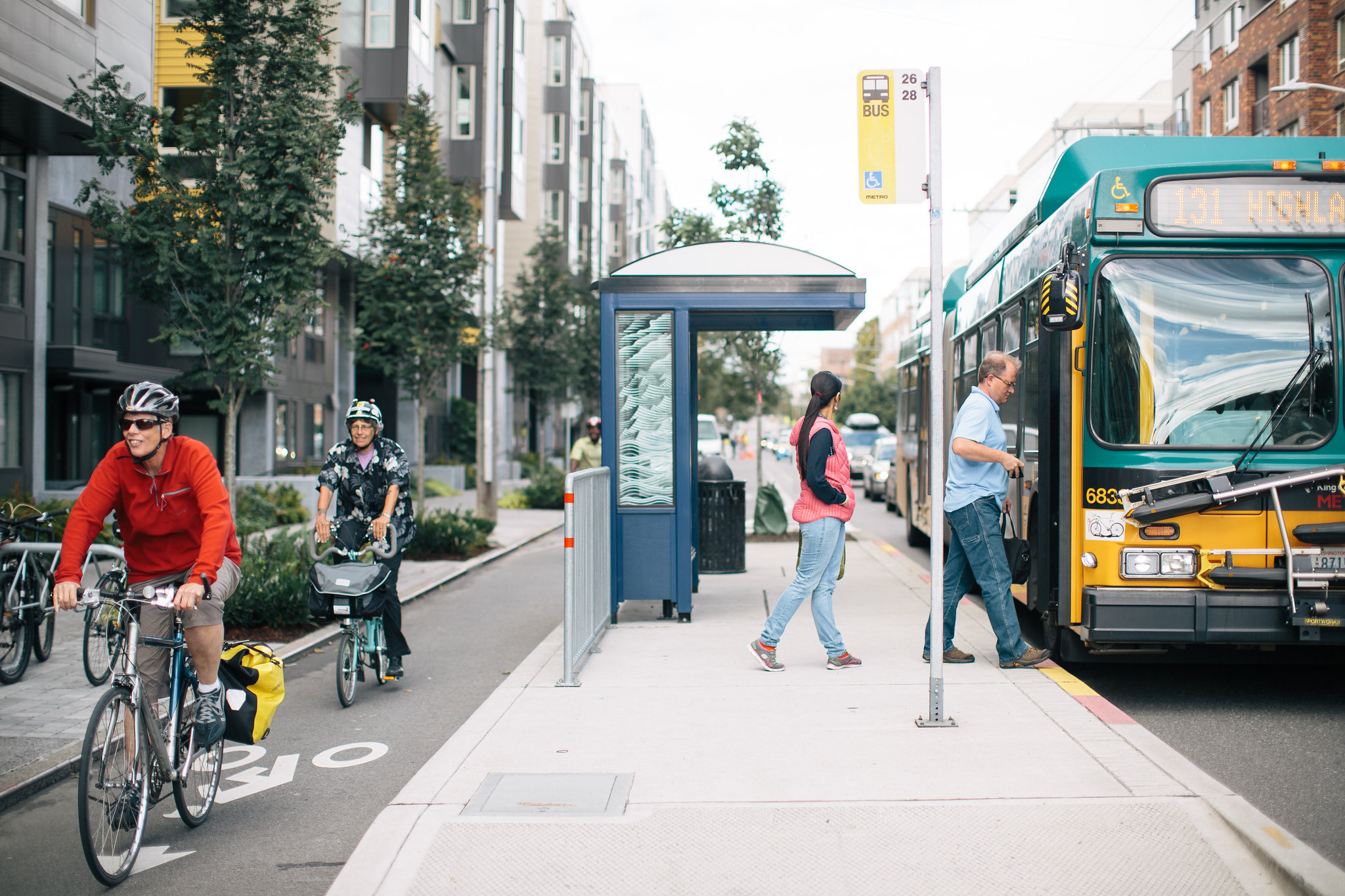 Dispersed decision points, entrenched bureaucracy, the money in play ($50 billion a year in the U.S.) and the sheer scale of the transportation system make change difficult. The work is further complicated by people's daily habits and the frank reality that in most places, driving is the easiest and sometimes only way to get around. Despite these challenges, foundations, advocates and leaders in the public sector continue to push for systems change at local, regional and federal levels.vi
Solutions Ahead
The solutions are clear. Make alternatives to driving, including transit, biking and walking, more convenient, safe and accessible for all. Improve transit services to serve more people more often. Build out networks of safe bike infrastructure and pathways that provide connections and opportunities for physical activity. Add pricing signals and manage the demand for driving and parking to start leveling the playing field. Couple efforts to electrify vehicles with policy and programs that make travel by other modes of transportation (known as mode-shift) a better option. Lead by listening to people, particularly communities of color, to understand the problems before jumping to the solutions.
The biggest challenge is not a lack of technical innovations or design solutions. Rather it lies in building the vision and political will to implement the needed changes.vii Centering equity in the work will help to build the necessary foundation to achieve systems change that prioritizes climate, safety and health outcomes.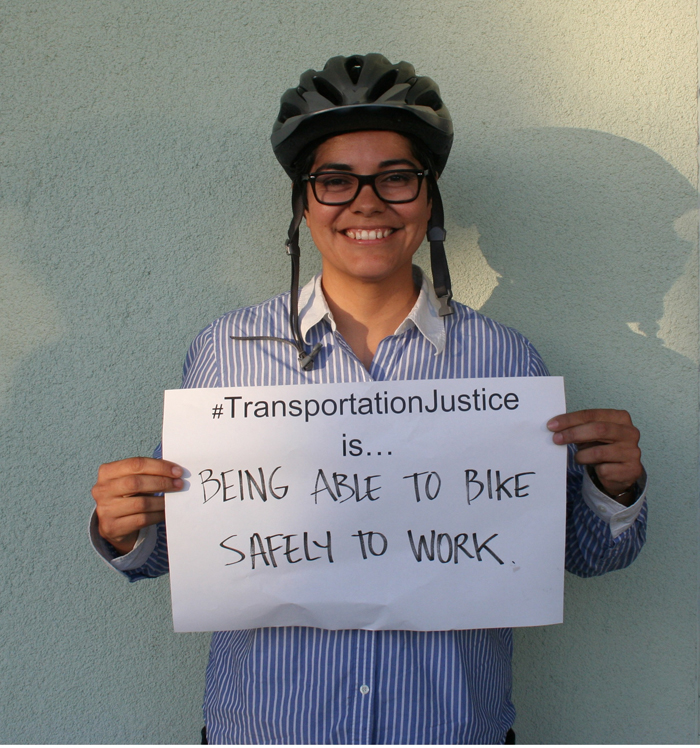 Philanthropy on the Move
The broadest swath of philanthropic support for creating sustainable mobility and equitable access comes from place-based foundations investing in local advocacy efforts. Local foundations are providing long-term support to non-profits to work on grassroots mobilization and power-building to raise up community voices and to help agency staff and elected officials adopt more progressive policy and funding approaches. The primary focus areas are improving transit, biking, and walking, while some also tackle parking reform, congestion pricing and other disincentives to driving. The Barr Foundation has supported a wide range of transportation-related efforts in Boston, including funding local groups to do studies, reports, communications and organizing. Houston Endowment provided start-up funds for transit and bike advocacy efforts, as well as groups addressing air pollution. The Bullitt Foundation has been a strong supporter of the Capitol Hill Eco District in Seattle among other projects. Increasingly, groups are working in partnership with other allies coming to this issue through climate, health and equity frames.
Philanthropic investment in federal level activities has waned in recent years, but have ramped back up as the federal recovery packages considered the pandemic-created transit crisis and with the new five-year federal transportation reauthorization coming due. Nationally, the American Cities Climate Challenge from Bloomberg Philanthropies is supporting the work of 25 U.S. cities to meet carbon reduction goals through an intensive two- year effort. TransitCenter has established and is funding a network of local transit advocates. Programs through American Heart Association, the Centers for Disease Control and Robert Wood Johnson have supported improvements to walking and biking infrastructure. The JPB Foundation's investment in the Better Bike Share Partnership has helped build equitable and replicable bike share systems across the country.
Credits / Contact
This issue brief was written by Martha Roskowski for The Funders Network. The Mobility and Access Collaborative, a funder consortium at The Funders Network, provides a gathering place for interested funders, offering a listserv, webinars and in-person events to share strategies and opportunities to co-invest. With leadership from the Summit Foundation, the Collaborative established the Mobility Fund in 2020. The first round of the matching fund supported non-profits working on transit, biking and walking, using national funds to spur contributions from local funders.
For more information on TFN's Mobility and Access Collaborative, including additional resources, go here or contact TFN program consultant Martha Roskowski at martha@fundersnetwork.org.