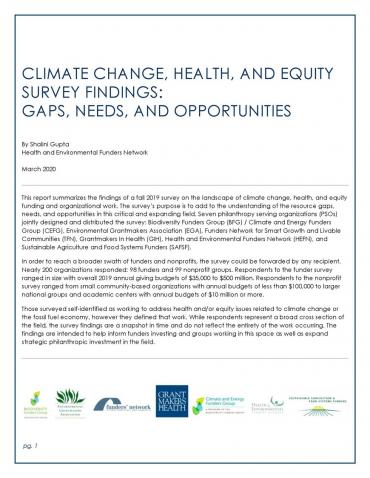 This report summarizes the findings of a fall 2019 survey on the landscape of climate change, health, and equity funding and organizational work. The survey's purpose is to add to the understanding of the resource gaps, needs, and opportunities in this critical and expanding field. Seven philanthropy serving organizations (PSOs) jointly designed and distributed the survey: Biodiversity Funders Group (BFG) / Climate and Energy Funders Group (CEFG), Environmental Grantmakers Association (EGA), Funders' Network for Smart Growth and Livable Communities (TFN), Grantmakers In Health (GIH), Health and Environmental Funders Network (HEFN), and Sustainable Agriculture and Food Systems Funders (SAFSF).
Nearly 200 organizations responded: 98 funders and 99 nonprofit groups. Respondents to the funder survey ranged in size from overall 2019 annual giving budgets of $35,000 to $500 million. Respondents to the nonprofit survey ranged from small community-based organizations with annual budgets of less than $100,000 to larger national groups and academic centers with annual budgets of $10 million or more.
Those surveyed self-identified as working to address health and/or equity issues related to climate change or the fossil fuel economy, however they defined that work. While respondents represent a broad cross section of the field, the survey findings are a snapshot in time and do not reflect the entirety of the work occurring. The findings are intended to help inform funders investing and groups working in this space as well as expand strategic philanthropic investment in the field.