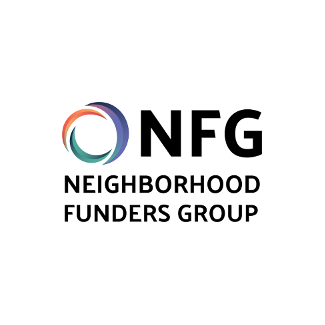 The Neighborhood Funders Group (NFG), is a network of hundreds of national and local grantmakers throughout the U.S. We bring funders together to learn, connect, and mobilize resources with an intersectional and place-based focus. Our mission is to organize philanthropy to support grassroots power building so that communities of color and low-income communities thrive.
In our climate, health, and equity work, we're most focused on:
Liberating philanthropic assets so that BIPOC communities and low-income communities have power to self-determine. We do this through our NFG programs that create inspiring organizing spaces for funders to explore shifting power and money in philanthropy towards justice and equity.
Why this is important:
Black, Indigenous, people of color communities and low-income communities are disproportionately impacted by climate change. All of us in philanthropy — Black, Indigenous, people of color, and white people — can transform our understanding to be greater leaders for justice. Even though all of us are implicated, who leads matters! Who is leading will shape how and what we fund.  
Our offerings for funders include:
For over 40 years, NFG has actively facilitated relationships and learning opportunities among the hundreds of national and local grantmakers in our network, strengthening our collective impact. We center people, place, and power in our conferences and programs offerings, providing opportunity for funding, education, and critical thought around important issues facing community-centered grantmakers.
 
NFG Programs
 
Democratizing Development Program - The Democratizing Development Program (DDP) brings together place-based and national funders to provide learning, analysis, and mutual support around organizing the field of philanthropy and genuinely partnering with communities to support sustainable development and community power building strategies.
 
Funders For A Just Economy - Funders for a Just Economy (FJE), formerly known as the Working Group on Labor and Community Partnerships, is a national network of funders committed to advancing the philanthropic conversation around economic justice and workplace issues. We are committed to placing organized labor, worker centers, worker justice campaigns, policy efforts, and organizing strategies at the center of our various efforts, and addressing the disparate impact of economic policies on people of color, women, migrants, and low-income individuals and families.
 
Integrated Rural Strategies Group – Integrated Rural Strategies Group (IRSG) began in response to a growing interest amongst funders around supporting work in rural regions. IRSG exists to support and grow rural organizing; further the work of creating deep democracy in rural areas; facilitate a transition to working economies that are ecologically resilient and sustainable; and protect land, water, air, and soil for generations to come.
 
This project addresses two key realities:
1.    First, there is growing awareness of the neglect and disparities in rural areas that led to the embrace of a far-right political agenda in the 2016 elections. As minority populations continue to grow in rural America, it is critical that philanthropy contributes to a strong participatory democracy that engages all communities.
2.    Second, there is recognition of how climate change disproportionately impacts people of color, both globally and within the United States. Organizing work at the intersection of land, people, and the environment is critical at this time.
 
Amplify Fund - Amplify believes that community power is the key driver of just and equitable development. As a funder collaborative, Amplify Fund supports Black, Indigenous, people of color and low-income communities to build power and to influence decision about the places they live and work. Amplify centers racial justice and believes in following the wisdom and guidance of local leaders. In addition to guiding our strategies and grantmaking, we are committed to living these values through our internal operations, administrative functions, and behavioral norms to the fullest extent possible.
 
Philanthropy Forward - Philanthropy Forward is a CEO fellowship community for visionary leaders who center racial and gender justice and community power building to disrupt and transform the future of philanthropy. This collaborative program is designed and delivered by Neighborhood Funders Group and The Aspen Institute Forum for Community Solutions in collaboration with design consultants and facilitators. This fellowship brings together CEOs of foundations who are already supporting racial and gender justice and community power building to make deeper change at the individual, organizational, and philanthropic field levels.
 
Midwest Organizing Infrastructure Funders - NFG's newest program, the Midwest Organizing Infrastructure Funders, kicked off in 2021 to remedy racial inequities in the region by increasing funder coordination and investment in grassroots organizing, advocacy, and civic engagement. Funders across NFG's programs and membership had expressed interest in deepening shared work in the region, in response to the region's significant social upheaval in recent years—from the uprisings in Ferguson, Missouri to the Flint, Michigan water crisis and the murder of George Floyd. The Midwest Organizing Infrastructure Funder offers a values-aligned, political "home" for these funders to connect and organize.
 
Connect with Us
Learn more about our climate, health, and equity work:
Learn more about our Climate, health, and equity work:
Visit NFG's website and:
NFG's Integrated Rural Strategies Group and Midwest Organizing Infrastructure Funders, invite you to support racial justice and reparations for Black farmers who are crucial to our fight for just food systems, economic justice, and climate justice.
Contact us:
To reach our team, please write to us at nfg@nfg.org.