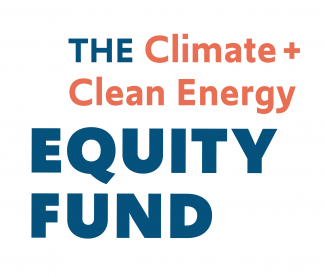 The Climate and Clean Energy Equity Fund (Equity Fund) is building power to stop climate change and create an equitable clean energy future through a strategic multi-state initiative that is:
(1) Investing in the leadership and organizing of diverse communities (Black and Indigenous people, people of color, and others bearing the brunt of climate change);
(2) Engaging voters in these communities through nonpartisan civic engagement campaigns; and
(3) Winning climate and clean energy policy solutions that reflect the priorities of communities and advance racial, economic, and environmental justice.
Our climate, health, and equity work is most focused on:
Grantmaking to local and state-based grassroots organizations and coalitions that are leading the most effective nonpartisan civic engagement strategies, community organizing, voter education, and policy campaigns to build power for durable and equitable climate solutions.
The Equity Fund also supports grantees through its Policy Accelerator and Communications Accelerator programs which work to strengthen our grantees' efforts to win equitable climate and clean energy policy and shape federal-level advocacy.  
A core pillar of the Equity Fund's grantmaking strategy is a focus on investing in the leadership and organizing of rural and diverse communities (Black and Indigenous people, people of color, and those most impacted by climate change). In 2020, out of 70 Equity Fund grantee organizations across 8 states (MN, PA, NM, VA, FL, GA, NV and NC), over 40% are Black-led and 70% are women-led organizations.
This is important because:
To win the bold climate actions on the timeline we need, there needs to be significantly more funding for the groups we support. It matters that the solutions, stories, political power, policies, and leadership come from people who are directly impacted by climate issues. Equity Fund grantee partners have been organizing communities for years – before, during and after election cycles – to advocate for the policies that tackle climate change, address needs in their communities, and win the power needed to make those policies happen.
In our climate, health, and equity work, we connect with other funders through:
Regular funder briefings and opportunities for peers in philanthropy to learn from the Equity Fund's impact and the impact of our grantees' strategies. The Equity Fund also participates in field conferences including the Climate and Energy Funders Group, Environmental Grantmakers Association, and Donors of Color Network, among others. We welcome creating engagement opportunities for our funders and philanthropic peers to learn with us.
Connect with Us
Learn more about our climate, health, and equity work: