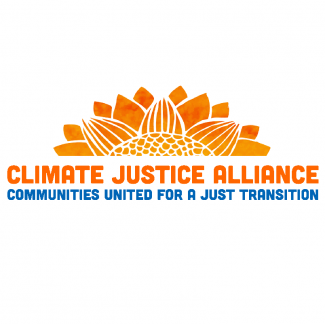 The Climate Justice Alliance is a unique alliance of 74 community, frontline, and environmental justice organizations; grassroots alliances and networks; and movement support organizations at the forefront of the climate crisis.
Through our dual strategy of stopping the bad while building the new, we advance our mission through engagement of frontline leaders in addressing root causes of climate change, generations of environmental and climate injustice, and inequitable access to resources to implement Just Transition solutions.
Our climate, health, and equity work is most focused on:
Organizing a Just Transition on the ground toward sustainable, resilient, regenerative economies, and on demanding bold action by government and industry to confront climate change.
This is important because:
"Those closest to the problems hold the greatest solutions. Frontline Communities — those impacted most by climate change, and who live with environmental and climate injustice levied by extractive industries in and adjacent to their communities, resulting in chronic impacts to human and environmental health — wield distinct wisdom, vision, and power to fight the bad, change the rules, and build the new."
Connect with Us
Learn more about our climate, health, and equity work:
Contact us:
Holly Baker at holly@climatejusticealliance.org.