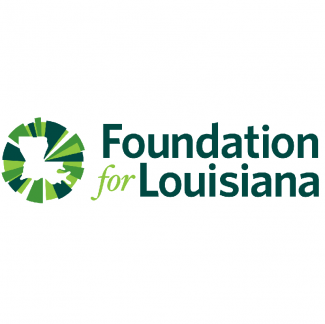 The Foundation for Louisiana (FFL) is a social justice philanthropic intermediary founded in 2005 as the Louisiana Disaster Recovery Foundation to invest in the immediate recovery of Louisiana's communities after Hurricane Katrina. While FFL was founded in the wake of disaster, our founders recognized the need to address the longstanding inequities that have shaped life outcomes for the many Louisianans and ensured sustaining practices to elevate values and improve outcomes statewide.
Our climate, health, and equity work is most focused on:
Building People Power, Advancing Just Climate Policies, and Cultivating New Narratives to enable a more healthy, just, and vibrant Louisiana. We work for access to relationships and strategies that generate wealth for marginalized communities towards a just transition; toward democracy-driven and equitable solutions to environmental racism; and with a determination to cultivate inclusive, vibrant and affordable neighborhoods in the face of ongoing climate impacts.
This is important because:
Without action, climate change and our institutional responses to it will exacerbate existing inequities. Black and Indigenous, communities of color, and low-income communities are more likely to live and work near toxic facilities like petrochemical companies which emit pollutants that shorten and impact their quality of life; reside in areas where there is more flooding; receive inadequate infrastructure to mitigate risks and prevent disasters, and experience delayed and insufficient response and recovery investments during and after emergencies.
Climate justice in Louisiana requires an account of the land's history, the layers and systems of oppression, the power to dismantle the harmful practices, and the influence to promote policies beneficial to our people.
In our climate, health, and equity work, we connect with other funders through:
Relevant funder networks like Grantmakers for Southern Progress, the Asset Funders Group, the Association of Black Foundation Executives, and the Greater New Orleans Funders Network, as well as collaboratives and pooled funds as appropriate for given work.
Connect with Us
Learn more about our climate, health, and equity work: