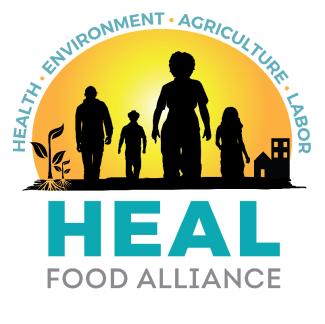 HEAL is a national multi-sector, multi-racial coalition of 55 organizations. We are led by our members, who represent over 2 million rural and urban farmers, ranchers, fishers, farm and food chain workers, indigenous groups, scientists, public health advocates, policy experts, community organizers, and activists. HEAL's mission is to build our collective power to create food and farm systems that are healthy for our families, accessible and affordable for all communities, and fair to the working people who grow, distribute, prepare, and serve our food — while protecting the air, water, and land we all depend on.
Our climate, health, and equity work is most focused on:
Building a movement to transform our food and farm systems from the current extractive economic model towards community control, care for the land, local economies, meaningful labor, and healthful communities nationwide, while supporting the sovereignty of all living beings.
This is important because:
The pandemic, climate chaos, and the powerful uprisings for racial justice have revealed to the broader public what HEAL's members have long known to be true: that a corporate-controlled food system is not equipped to serve the people, and that injustice and public health are at odds.
These crises disproportionately impact our BIPOC communities, and HEAL members are meeting the moment with grace and fortitude, and have affirmed our understanding of the importance of HEAL's work to connect and unite groups, advance a shared narrative, and organize resources for a BIPOC-led movement for change.
Connect with Us
Learn more about our climate, health, and equity work:
Contact us:
info@healfoodalliance.org