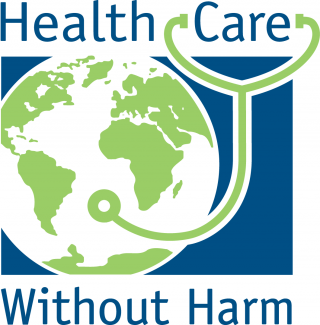 Health Care Without Harm (HCWH) is a global health and environmental organization mobilizing the health care sector, clinicians, and health workers to:
1) protect public health from the devastating impacts of climate change;
2) build community resilience, local economies, and equity; and
3) affect deep policy change as advocates for environmental health and justice.
We drive change faster and more effectively by focusing on work at a systems level to transform health care worldwide so that it reduces its environmental footprint, becomes a community anchor for sustainability and a leader in the global movement for environmental health and justice.
Our climate, health, and equity work is most focused on:
Utilizing health care as an extremely powerful lever for creating systemic change for a myriad of critical societal issues and addressing the social determinants of health (e.g. food, housing, pollution, racism, jobs, investment). It has vast economic, political, and moral influence that should be harnessed to partner with communities and governments in driving changes in awareness, advocacy, policy, business operations, and in treating patients and communities in their entirety, not just the disease.
This is important because:
As we face more health, economic, and extreme weather crises, there will be further damage to the infrastructure, ecosystems, and social systems that provide essential benefits to communities - both urban and rural. The systemic scale of these problems demands innovative solutions, expedited impacts, and broad cooperation in service of creating the resilience needed to both respond to and build up what communities need for a vibrant future.
Health care is sitting at the epicenter of these crises as an anchor to our response, holding both the collective trauma and the potential for collective healing - whether that be from the coronavirus or extreme weather brought on by climate change.
What you might see when you think of health care today are the impacts of COVID-19 on our health systems: the lack of Personal Protective Equipment, shortages in frontline health workers and hospital beds, and flooded ERs.
What you don't see is that health care has the power to do more than treat medical emergencies. Health care is an anchor institution. It can also be an anchor for resilient communities and help solve the drivers of inequity and public health crises such as climate change, structural racism, food insecurity, economic discrimination, and a lack of coordinated community planning and resilience.
Connect with Us
Learn more about our climate, health, and equity work:
A powerful example of our work is the Anchors in Resilient Communities (ARC) initiative, a joint project with Emerald Cities Collaborative. At a high level the ARC model operates on the belief that the collective power of community leaders and institutions can design equitable and local economies that work for everyone. Leadership combined with economic clout, if harnessed effectively, is a powerful mechanism for contributing to community health, wealth, and climate resilience.
The goal of the ARC Regional Food System Initiative in Northern California is to operationalize partnerships among food producers, processors, and community-owned businesses to meet the growing institutional demand in the region; build community wealth in under-served communities through good-paying jobs and business opportunities in the food sector; and increase the availability of fresh food in communities suffering from high rates of food insecurity and diet-related disease.
Two specific projects included in this initiative include:
Opening of the new $20 million food production center located in Union City, California. This facility will be the Bay Area home of FoodService Partners (www.fsp98.com), an industry leader in providing sustainable and ethically produced, locally and regionally sourced food for the health care, education, and retail sectors. It will provide local jobs; healthy meals from local, sustainably produced ingredients; fuel the environmentally sound food supply chain to large local hospitals, universities, and health systems; and support BIPOC and minority owned farmers. 
Dig Deep Farms Food Hub in Alameda County is a project that partners with the Alameda County Deputy Sheriff's Activities League to provide internships to former inmates/justice system involved people to grow the food hub, create jobs, and incubate budding entrepreneurs by getting nutritious food to people in need, preserve and expand jobs in the food systems industries, and reimagining the local food systems economy.
Resources include:
Contact us:
Marisa Brasor, Managing Director of Philanthropic Initiatives & Strategy: mbrasor@hcwh.org